Wiggens Process reactor, cylindrical, jacketed (10- 100L )
$1.00
Description
10L standard pilot reactor. Designed for maximum diversity and ease of use, we have developed a simple base system building platform that allows any reactor system to be customized using catalog or custom-designed parts. Each base system comes with the basic starting components required. Simply select the motor and accessories needed to complete the design. For customized components or application design, contact our technical department for further assistance.
Select the base system dependent on the desired working volume.
2. Select the motor that best suits your application.
3. Select the components and accessories which best fit your application.
10L complete standard pilot reactor
| | | |
| --- | --- | --- |
| Part Number | Description | Motor Type |
| JRS-1503-01 | 10L process reactor, complete | OHS.4F |
| JRS-1504-01 | 10L process reactor, complete | OHS.6F |
| JRS-1503-01M | 10L process reactor, complete, with manifold and fittings | OHS.4F |
| JRS-1504-01M | 10L process reactor, complete, with manifold and fittings | OHS.6F |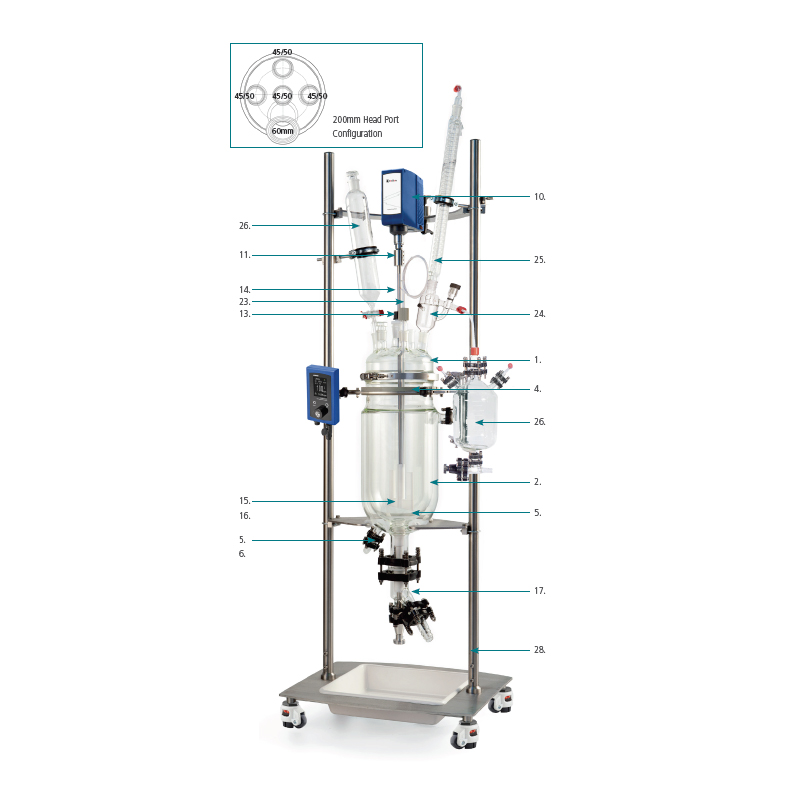 No.
Order No.
Product Description
Qty
1
JRS-6530-28
200mm (8") flange,Center Joint: 45/50,Side Joints: (3) 45/50,Addition Port,60 mm
1
2
SQEG069269
Jacket Reaction Vessel DN200, 10L
1
3
JRS-7855-884
200mm CAPFE O-Ring
1
4
JRS-6517-31
200mm Quick-release Clamp
1
5
SQSO038987
Adapter, DN25 to M30×1.5
2
6
SQQI007895
Coupling Flange, DN25
2
7
JRS-15312-30
60mm Glass Cap
1
8
JRS-7855-878
60mm CAPFE O-Ring
1
9
JRS-6517-22
60mm Quick-release Clamp
1
10
100600F
Stirrer Motor with remote controller
1
11
JRS-8126-19
19mm Stir Shaft Swivel Coupling, 3/8" Stir Motor Shaft
1
12
JRS-8127-20
19mm Shaft Collar
1
13
JRS-8067-30
19mm PTFE Ace-Thread Bearing
1
14
JRS-8076-40
19mm Glass Stirring Shaft, 36" Length
1
15
JRS-8091-20
5-1/2" O.D. Anchor Style Agitator
1
16
JRS-8097-12
5" O.D. 45° Agitator
1
17
JRS-6472-245
Flush Seal Drain Valve w/CAPFE O-Ring
1
18
JRS-8856-11
2" Beaded Pipe Coupling
1
19
JRS-8856-07
1" Beaded Pipe Coupling
2
20
JRS-2101-02
Stopper,45/50
1
21
JRS-5028-30
Temperature sensor adapter,24/40
1
22
JRS-13430-40
PTFE standard taper outer to the inner reducing adapter, 24/40-45/50S
1
23
8981013
External Pt100 sensor 600 x 6 mm dia., stainless steel, PTFE coated, -75⋯ +250 °C, 3 m cable
1
24
JRS-2622-01
Distillation, Head, Reflux/Divider, In-Line 45°
1
25
JRS-5945-76
Condenser, Jacketed Coil 500mm Jacket Length,45/50
1
26
JRS-7297-45
Funnel Graduated, Pressure Equalizing, PTFE Stopcock, 5000ml
1
27
SQEG062846
5L Receiving Vessel
1
28
JRS-3602-01
Smart Supporting Structure AISI 316
1
Optional
29
JRS-6101-000
Multi-channel regulating valve outlet
1
30
JRS-6102-000
Multi-channel regulating valve inlet
1
31
8930220
0.5 m Metal tubing, insulated, 2 fittings M16x1 female (-50…+200 ℃ )
2