Wiggens Advanced Pilot Reactor , Horizontal Condenser (10 L – 100L )
$1.00
Description
Pilot Plant For High-Performance Applications Scaling Up To The Kilolab
* We offer a wide range of pilot plants for didactics, research, and production. The systems are modular, flexible, user-friendly, and can be integrated anytime with various accessories.
* Easly configurable range of Pilot Plants from 10 to 100 liters of usable volume.
* Smart supporting structure entirely made of AISI 316 Stainless Steel allows the expansion of the basic configuration.
* A wide range of instruments from the most reliable brands can be integrated with the reactor: pH meter, Conductivity meter, Redox meter, Crystallization monitoring probe, etc.
* As an option a software running on PC can be supplied for the full logging, the monitoring, and the controlling of the connected instruments.
* The unit came standard with secure solvent resistant weels for extreme flexibility on using the lab or hood space.
* A spill containment tray is part of the basic configuration.
Reactor kits include the following components:
* Support Stand
* Vessel with drain valve
* Shaft and agitator(s)
* Bearing
* Lid with clamp and o-ring
* Overhead stirrer with shaft couplings
* Condenser
* Jacket adapters
* RTD probe adapter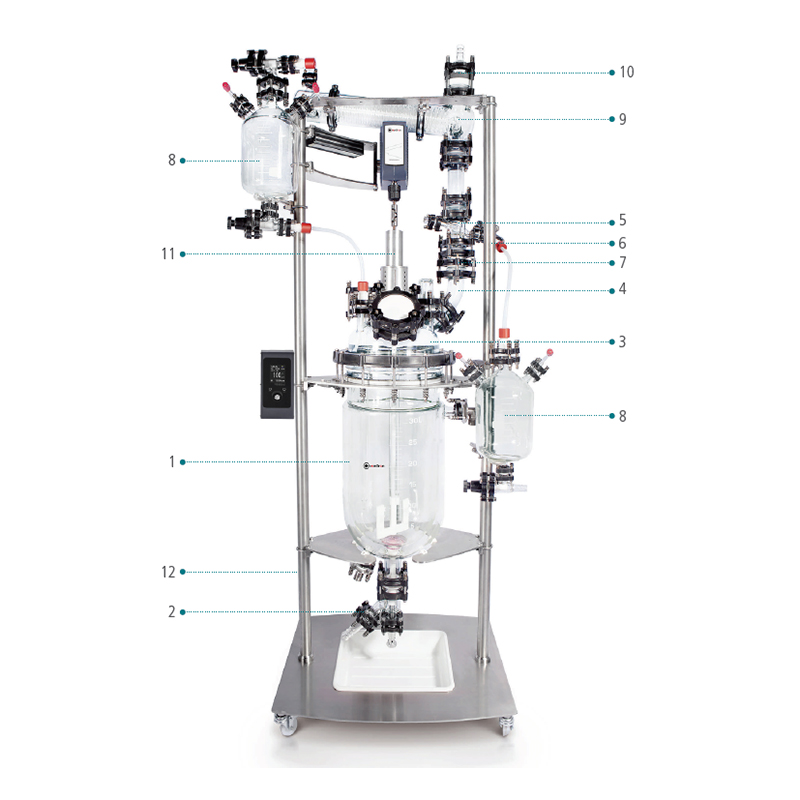 No.
Order No.
DESCRIPTION
1
KC-R10
JACKETED VESSEL DN300 10L / DISCHARGE DN50
2
SQTK032037
GLASS/PTFE VALVE DN50 WITH NO DEAD VOLUME
3
SQEG073335
COVER DN300 7 NOZZLES WITH:
A
——
-CENTRAL DN25 FOR STIRRING,
B
——
-DN80 PTFE NOZZLE FOR SOLIDS,
C
——
-DN40 WITH GLASS THERMOMETER POCKET FOR PT100,
D
——
-DN40 WITH WELL FOR PH,
E
——
-DN40 FREE NOZZLE
F
——
-DN25 WITH DIP PIPE AND ADAPTER FOR LIQUIDS,
G
——
-DN50 FOR VAPOURS
4
SQSO058802
BOROSILICATE GLASS 3.3 REDUCED BEND DN100/50
5
SQDI031173
REFLUX SEPARATOR DN100
6
SQRI069239
GLASS THERMOMETER POCKET FOR PT100
7
SQTK032087
GLASS BEND 90° DN15
8
SQEG062846
5L GRADUATED FEED AND RECEIVING VESSEL
9
SQQE073336
HORIZONTAL COIL HEAT EXCHANGER 0,6MQ INC5° DN50DX
10
GZRI057578
RUPTURE DISK GRAPHITE/PFA DN50
11
SQAO075105
HIGH TORQUE-HIGH SPEED OVERHEAD STIRRER
A
——
SPINDLE MOTOR
B
——
LANTERN WITH MECHANICAL SEAL GRAPHITE/PTFE
C
——
STAINLESS STEEL STIRRING SHAFT/PTFE COATED
12
SQRS069272
STAINLESS STEEL FRAME FOR REACTOR WITH COVER DN300
OPTIONAL ACCESSORIES
13
MLFM069215
DATALOGGER PHMETR (optional)
14
MLFM042649

MLMF067082

PH ELECTRODE AND CABLE (optional)
Complete reactor system on our unique open-air, auto-center frame. Industrial body, economical overhead stirring system, and industrial connections. Supplied with the components listed below and numbered on the 3D schematic drawing. Optional items are listed on the following pages.
√  Atex version available upon request
*Pneumatic motor available